Replacement Windows & Doors Near Ashburn, Reston, Sterling
We install exterior doors and replacement windows to improve home energy efficiency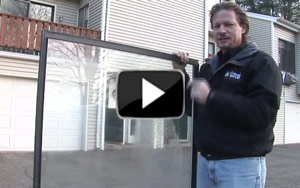 See how replacement window installation can help achieve the best energy efficiency and learn what a window energy efficiency label means.
Windows and exterior doors are part of a home's "building envelope," the barrier of building materials that separates interior living space from exterior space.
When windows and doors aren't up to snuff in terms of energy performance, the home's energy efficiency suffers, and home occupants aren't as comfortable as they'd like to be.
Unlike energy-saving improvements like insulation and duct sealing, installing new exterior doors and replacement windows will improve your home's visual appeal as well as its energy performance.
Comfenergy's energy technicians will help you identify the best replacement windows and doors for your home. Our window replacement and door replacement services are available in Sterling, Ashburn, Reston and all surrounding areas - schedule a free estimate today! 
Energy efficiency. Replacement windows can help reduce your heating, cooling, and electrical bills.
Replacement windows are sized to fit into existing openings
If you decide to invest in replacement windows, a technician will measure the size of your existing windows. Careful measurements are important because the new replacement units are designed to fit snugly inside the existing jambs after the old sash has been removed.
Many replacement windows feature all-vinyl construction, which improves energy performance while also providing excellent durability and resistance to the elements. Vinyl and fiberglass replacement windows never require painting, although they can be painted if you want them to be a different color.
Learn more about our window replacement services in Virginia or contact us to schedule an estimate!
---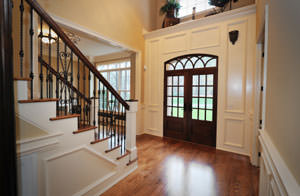 Durable, beautiful and energy efficient. This new entry door looks like it's made from wood, but it has a foam insulation core covered by a steel skin.
Replacement exterior doors decrease drafts while increasing curb appeal
There's no doubt about it: Exterior doors are much better than they used to be. Today old-fashioned solid wood exterior doors have largely been replaced by doors clad with steel, vinyl or fiberglass and filled with foam insulation. Top-quality models look remarkably like traditional wood versions, but offer improved energy efficiency, excellent dimensional stability (resistance to warping and cracking), and weather resistance.
If you need a new entry door, the best choice is usually a pre-hung unit -a door that comes already installed in its frame, with the threshold, weatherstripping and exterior trim attached. Many entry doors feature sidelights, which increases the size of the door's rough opening so that light and views are available around the door itself.
Since many different door styles are available, you'll want to look at a variety of replacement doors before making your selection. To avoid the expense of altering the existing opening, make sure your new door is sized to fit in the existing rough opening.
Learn more about the benefits of having replacement doors installed by our team of energy experts. We not only make your home look good, but we also focus on improving energy efficiency and comfort. 
Upgrade those drafty windows and doors today!
Call 1-855-764-5297 or contact us online to schedule a free estimate for window or door replacement by the experts at Comfenergy. We also specialize in home energy audits to inform homeowners of all the ways they could be saving energy - and windows and doors play a part! We offer our services throughout the area in Sterling, Ashburn, Reston and cities nearby.