Trusted Attic Insulation Company Near Reston, Sterling, Ashburn
We are Virginia's experts for installing attic insulation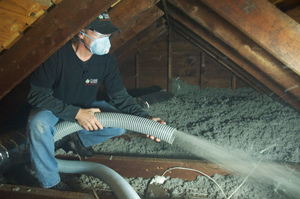 Affordable upgrade. Cellulose insulation is often used in attics because it can be installed quickly and effectively with blowing equipment. Cellullose is super-green: It's made from recycled newspapers and treated for resistance to fire, mold and insects.
Upgrading attic insulation is a VERY popular energy-saving improvement because more energy (and money!) is lost through the attic than through any other part of the house.
What makes matters worse is improperly or poorly installing inadequate attic insulation. Existing attic insulation in many homes may be as minimal as R-19-- which pales in comparison to the recommended R-value!
Going through a cold winter with so little insulation is like wearing a t-shirt in a snowstorm. What your house really needs is the equivalent of a thick down-filled parka.
The U.S. Department of Energy recommends between R-49 and R-60 of attic insulation in Sterling, Leesburg, Ashburn, Fairfax, and other areas. That's at least a 16-in.-thick blanket of fiberglass insulation!
Before and After
Before

After

This Leesburg, VA homeowner had mold growing in their vented attic assembly that was causing the family to develop allergies and get sick very often. Comfenergy discovered this attic mold and treated it with MoldX-2 before air sealing, insulating and providing other services.

These pictures ar eof the mold covered roof joists before and after being treated by Comfenergy with MoldX-2.

Before

After

This home in Herndon, VA was experiencing cold drafts this winter and found it expensive to keep their home warm. In the attic there was very little insulation and had a low R value. We used our TruSoft Blown-in Insulation resulting in a less drafty and more comfortable home.

Before

After

This customer in Reston called about rodents in their attic and some issues with uneven temperatures throughout their home. Carl Depner went out to do an inspection and identified several potential services to help with the situation. A removal of all old fiberglass insulation was done along with removing any existing rodents and or waste. The floor of the attic was air sealed to help keep conditioned air inside the living space of the home, MoldX fogging spray was done to help reduce the possibility of mold in the future and the entire attic was covered in TruSoft Cellulose insulation. This will all help to better control the temperature inside of the home and reduce the possibility of rodents returning to the attic.

Before

After

This home was leaking conditioned air from the HVAC system into the attic, causing the temperatures in the living areas of the home to be uncomfortable. We cleared out all of the old insulation, air sealed the ceiling, and put in TruSoft Cellulose insulation to keep the attic functioning the way it was intended. In addition to the improvement in insulation, the material used will help to reduce and deter the presence of rodents in the attic.

Before

After

A homeowner in Burke, VA did NOT like her attic. It was dark and icky and not an area that she liked to be in. She noticed dirt on her bedroom ceiling. The dirt was coming from the air vents and the attic was directly above her bedroom. She tried getting her ducts cleaned and a new HVAC system installed, but the dirt kept coming. Finally, she gave us a call at Comfenergy to address the space she'd rather not think about- the spooky attic.

Our Sales Professional, Carl, could immediately see the problem. The insulation in this attic hadn't been replaced in a very long time. The decaying insulation contained pests droppings, dirt, and lots of dust. There were a few mold spots in places as well. After agreeing on a solution, the Comfenergy Production Crew got to work. We removed and properly disposed of the yucky old insulation and vacuumed out the space to get rid of all the dirt and grime. The attic was air sealed and fresh, clean ProWool Premium Insulation was installed. The duct system was encapsulated with polyurethane spray foam, the metal chimney was properly insulated, and Stefans' Radiant Barrier was installed along the underside of the roof rafters.

Now this homeowner's attic is spectacular instead of spooky. No more dirt on the bedroom ceiling, and she now had attic insulation that she would never have to replace again. ProWool does not lose its effectiveness over time and will not sag, settle, or be damaged by moisture. This attic make-over made this customer's home cleaner, more comfortable, and will save her money on her energy bills.
Increase the R-value, air seal leakage, and enjoy energy savings and comfort!
Contact us today to schedule your home energy audit to identify where your home is in need of more insulation. Our audit also diagnoses the other energy issues in your home-- which may be the larger factors in your home's high utility bills and discomfort.
We offer Free Estimates for attic insulation in Ashburn, Reston, Sterling, Great Falls, Vienna, Herndon, Purcellville, Fredericksburg, Middleburg, and the neighboring locations including Stafford. We also offer a unique system called the SuperAttic™ System, which adds a continuous & airtight layer of foam insulation beneath the attic rafters and inside the attic's gable walls.
Importance of Air Sealing and Insulating Attics
Air Sealing Goes Alongside Attic Insulation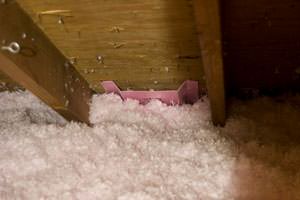 DETAILS MAKE A DIFFERENCE!
Baffles keep ventilation channels open. Plastic spacers are installed between rafters in the attic to maintain a vent space beneath the roof surface after new insulation is installed.
Air sealing is a critical step when insulating an attic because sealing air leaks stops conditioned interior air from leaking into the attic. Comfenergy uses a variety of materials and techniques to stop this energy-wasting air leakage.
Installing baffles ensures proper attic ventilation. Sized to fit between the rafters in the attic, plastic baffles maintain a ventilation space between the attic's soffit vents (located along the eaves) and the ridge vent. Installing baffles before adding more attic insulation helps avoid damage from ice damming and excess moisture.
Old insulation can be reused, most of the time. As long as the existing insulation is not wet, moldy or overly compressed, it can usually be put back into place after the attic has been air-sealed and before new insulation is installed.
Start Saving Energy and Money With An Attic Insulation Upgrade.
Call 1-855-764-5297 or contact us online to schedule a home energy audit or an estimate for home insulation in Reston, Sterling, Ashburn, and in and around Herndon, Great Falls, Middleburg, Purcellville, Fredericksburg, Vienna, Manassas, and Stafford.
Be sure to check out our specialized SuperAttic™ System for continuous & airtight coverage.