Trusted Attic Insulation Company Near Reston, Sterling, Ashburn
We are Virginia's experts for installing attic insulation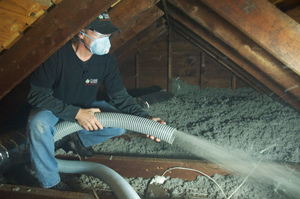 Affordable upgrade. Cellulose insulation is often used in attics because it can be installed quickly and effectively with blowing equipment. Cellulose is super-green: It's made from recycled newspapers and treated for resistance to fire, mold and insects.
Upgrading attic insulation is a VERY popular energy-saving improvement because more energy (and money!) is lost through the attic than through any other part of the house.
What makes matters worse is improperly or poorly installing inadequate attic insulation. Existing attic insulation in many homes may be as minimal as R-19-- which pales in comparison to the recommended R-value!
Going through a cold winter with so little insulation is like wearing a t-shirt in a snowstorm. What your house really needs is the equivalent of a thick down-filled parka.
The U.S. Department of Energy recommends between R-49 and R-60 of attic insulation in Sterling, Leesburg, Ashburn, Fairfax, and other areas. That's at least a 16-in.-thick blanket of fiberglass insulation!
Before and After
Before

After

This Vienna VA home was being remodeled and had its interior frame stripped down to allow for installation of more modern insulation products. Our team started working in the attic before addressing the inside of the walls in the rooms below. Old insulation was removed and the attic was air sealed with Zyp Foam in order to control unwanted air flow in and out of the space. A new attic floor decking was constructed by our team along with damning/walls to hold in the Tru Soft Cellulose Insulation that would later be blown in. A zippered Attic Tent door cover was installed to properly seal up the attic door and control air loss from the rooms below. The final result for the attic was a thick layer of insulation and a more energy efficient top floor of the home. The floor/decking would allow for storage space and the ability to walk around the attic.

Before

After

This attic in Arlington VA was previously treated by our team and had been filled with Tru Soft Cellulose Insulation. The homeowners decided that they needed to have a more cleared access to their HVAC and utility systems in the attic so they asked up to create a path. Our Production team was able to build a walkway from the attic hatch all the way to the HVAC unit in the attic.

Before

After

This Ashburn VA home was the recipient of a whole attic systems project. Removal of old insulation, air sealing using Zyp Foam, foam paneling used to cover several HVAC exchange boxes and Tru Soft cellulose insulation blown in to to cover it all. This will all help to reduce the energy cost it takes to heat and cool the home year round and make the home more comfortable for the owners. pictured here BEFORE is the attic with its original insulation and no air sealing below. The AFTER photo shows the old insulation removed and Zyp Foam having been used to seal all of the gaps and cracks where conditioned air had been able to leak from the home below.

Before

After

This Leesburg, VA homeowner had mold growing in their vented attic assembly that was causing the family to develop allergies and get sick very often. Comfenergy discovered this attic mold and treated it with MoldX-2 before air sealing, insulating and providing other services.

These pictures ar eof the mold covered roof joists before and after being treated by Comfenergy with MoldX-2.

Before

After

This Leesburg VA home was uncomfortable to the homeowners. They called us to get help and our Home Performance Sale Pro Eric went out to perform a no cost whole home inspection to try and find a solution to their problems. The attic had insulation that was not getting the job done. The performance level of the existing insulation (otherwise known as R Value) was less than what would be needed for the type of home and space in the attic along with the fact that the attic was not air sealed. This meant that conditioned air made by the HVAC system was being allowed to escape from the rooms it was made to cool down or heat up, causing the HVAC system to run more and use up more energy. Our production crew came and removed the existing insulation, then used Zyp Foam to create an air seal around the cracks and can light fixtures that accessed the rooms below. They would then install Rock Wool insulation to cover the base of the attic and then blow in Tru Soft Cellulose insulation to fill the space to its needed R Value. Shown here is the attic at the mid way point in the project when the existing insulation was removed and the air seal had been completed. Then shown as after is the finished project with Tru Soft insulation covering everything.
Increase the R-value, air seal leakage, and enjoy energy savings and comfort!
Contact us today to schedule your home energy audit to identify where your home is in need of more insulation. Our audit also diagnoses the other energy issues in your home-- which may be the larger factors in your home's high utility bills and discomfort.
We offer Free Estimates for attic insulation in Ashburn, Reston, Sterling, Great Falls, Vienna, Herndon, Purcellville, Fredericksburg, Middleburg, and the neighboring locations including Stafford. We also offer a unique system called the SuperAttic™ System, which adds a continuous & airtight layer of foam insulation beneath the attic rafters and inside the attic's gable walls.
Importance of Air Sealing and Insulating Attics
Air Sealing Goes Alongside Attic Insulation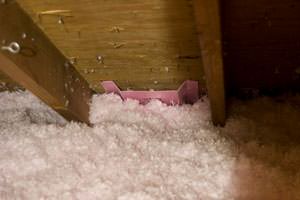 DETAILS MAKE A DIFFERENCE!
Baffles keep ventilation channels open. Plastic spacers are installed between rafters in the attic to maintain a vent space beneath the roof surface after new insulation is installed.
Air sealing is a critical step when insulating an attic because sealing air leaks stops conditioned interior air from leaking into the attic. Comfenergy uses a variety of materials and techniques to stop this energy-wasting air leakage.
Installing baffles ensures proper attic ventilation. Sized to fit between the rafters in the attic, plastic baffles maintain a ventilation space between the attic's soffit vents (located along the eaves) and the ridge vent. Installing baffles before adding more attic insulation helps avoid damage from ice damming and excess moisture.
Old insulation can be reused, most of the time. As long as the existing insulation is not wet, moldy or overly compressed, it can usually be put back into place after the attic has been air-sealed and before new insulation is installed.
Start Saving Energy and Money With An Attic Insulation Upgrade.
Call 1-855-764-5297 or contact us online to schedule a home energy audit or an estimate for home insulation in Reston, Sterling, Ashburn, and in and around Herndon, Great Falls, Middleburg, Purcellville, Fredericksburg, Vienna, Manassas, and Stafford.
Be sure to check out our specialized SuperAttic™ System for continuous & airtight coverage.